Object of the week: John Motson's sheepskin coat Calendar
21 Jan 2021
---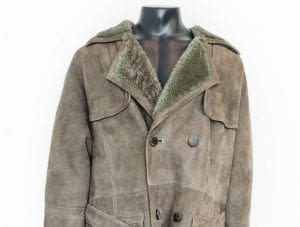 The legendary commentator cut an icy figure clutching his microphone on a snowbound pitch.
It's 30 years (8 December 1990) since the BBC's John Motson battled horizontal sleet showers ahead of Wycombe Wanderers' FA Cup tie with Peterborough United.
What is this item?
This is a sheepskin coat worn by commentator John Motson during his 40-year career as a leading BBC TV football commentator. Back in the 1970s, 'Motty' bought seven of these coats thinking they'd see his career out, but his time in the commentary box long outstripped his supply of coats.
How can a coat become famous?
Motty is hugely popular football figure with more than 2000 commentaries under his belt. In winter months he was often seen wearing his trademark sheepskin coat.
His winter wardrobe shot to national stardom when dispatched to commentate on Wycombe's FA Cup tie against Peterborough on 8 December 1990. The weather was atrocious and Motty did a pre-match report for BBC Grandstand battling the elements.
Photographer Stuart Roy Clarke was also there and captured the moment in a still image.
The photograph went on show at the National Football Museum in 2018 as part of Stuart Roy Clarke's 'Reporting from the Ground' exhibition.
Stuart said: "I can see Motson's brown sheepskin coat, standing out against the white of the snow. So, without delay… I prise open the gates and cock the shutter of my camera. One shot and I create a photo, a moment in time, that will help elevate Motson and his coat to national treasure status and please audiences for many years to come."
What did John Motson say in his broadcast surrounded by snow?
He said: "Well I'm afraid Mark West And Martin O'Neill are going to have to wait a few days longer if they are going to add another chapter to Wycombe's famous cup history.
"As you can see, this part of Buckinghamshire is absolutely snowbound. And there's a bit of gale hurtling around me as well. This has all happened, believe it or not, in the last hour and a half…"
You can still watch the clip here in a brilliant BBC montage of snow and football.
Is the coat in the museum from that moment?
No, but it is one from Motty's iconic winter wardrobe worn at matches up and down the country. The coat is currently on display and visitors can see it when the museum re-opens.
Who won the match in the end?
The match was obviously postponed until midweek. Both sides fought out a 1-1 draw. Posh won the replay 2-0.
Motty's sheepskin coat is featured in our latest First 11 Video: