Object of the Week: Aston Villa v Berlin menu card Calendar
2 Jul 2021
---
Following on from England's recent win over Germany, our latest object of the week takes us back to the early days of Anglo-German competition. Dr Alexander Jackson tells us more…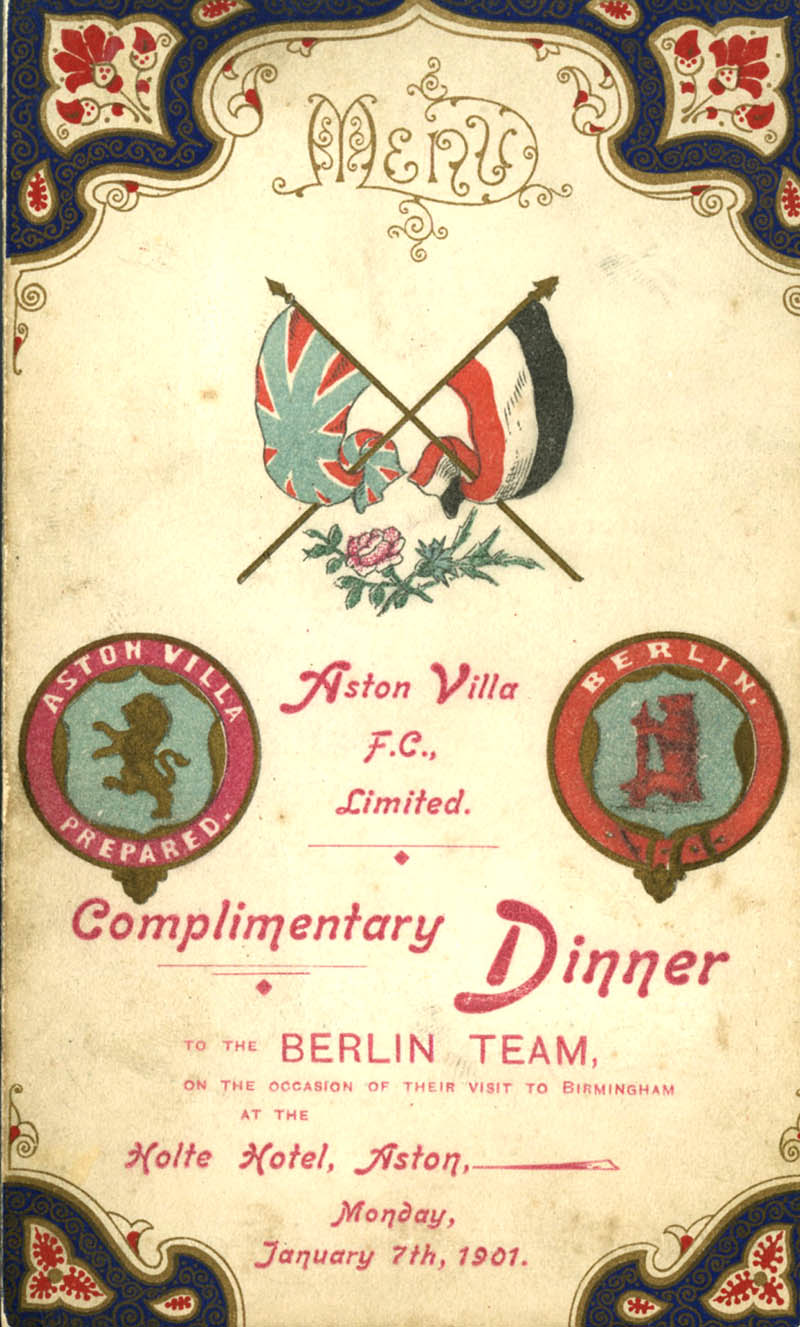 It is a dinner menu from a post-match dinner, held after Aston Villa played a Berlin side on the 7 January 1901. It's small, about the size of a postcard and consists of a decorated cover, two pages for the menu, with the reverse left blank. Its one of the earliest dinner menus we have in our collection and a great starting point for exploring Anglo-German football relations at the turn of the nineteenth century.
The first visit to England by a German team is believed to have been in 1896. According to Hans-Peter Hock, who contacted us on social media about this, the team consisted German and English players with little football experience and lost heavily to Sheppey (9-0), Chatham (15-0), Millwall (9-0) and Crystal Palace (15-0). In 1899, the Football Association organised a tour by an English FA XI, a step-below a full international, to Germany and Austria. England beat Germany 13-2, 10-2 and 7-0, and we have a photo of the team on loan from the FA.
Two years later the Berlin FA organised a tour with a desire, according to Sporting Life, to 'further perfect their play by learning English methods as they can be learned on English grounds.' They lost 5-1 to Southampton, 6-2 to Aston Villa and 9-6 to Tottenham Hotspur, 8-2 to Millwall and 7-1 to the Richmond Association, but earnt warm praise for their play and sportsmanship.
There was also praise for the role of these games in promoting Anglo-German relations. The Birmingham Sports Argus reported that the German captain Ivo Schricker, a 'genial, gentlemanly young fellow,' expressed the hope that such matches 'would help remove many misunderstandings existing between the two nations.' Stricker later became General Secretary of FIFA from 1932 to 1951, an appropriate post for someone with this international outlook.
To avoid any misunderstandings with the food, the menu was printed in both German and English and we can see that they enjoyed hearty fare of fish, boiled and roast meats, wine jellies and the mysterious 'Aston Villa Pudding,' whose exact ingredients remain unknown.
According to "Nomad", Editor of the Birmingham Sports Argus, 'The Germans were delighted with the cards' and insisted on the Villa directors and players signing them, 'Years hence these cards will be regarded with particular pride by the pioneers of what is likely to become Germany's pastime.' Our card is signed by the German players and officials.
Thanks to "Nomad" we have a wonderful account of the dinner, which he greatly enjoyed. He was seated next to Stricker and 'luckily for me he spoke English exceedingly well: most young German's can. I am glad he did, for although I was not a bad German scholar…my German is now rustier than my muscles.' After the post-dinner speeches, the Germans were meant to leave early for a train to London, but they insisted on staying for some singing and 'fun.' "Nomad" enjoyed the German method of applauding – slow, rhythmic claps building in intensity – and how quickly they learnt to shout "bravo!"
His closing comments are especially poignant, given that the two countries would be at war by 1914. Watching the two teams laugh and sing together, he observed that there was 'no difference' between the young men and that 'It's the rulers who make all the friction. I don't want to fight anyone in Germany and no one in Germany wants to fight me. And the more international sport we get the less desire for fighting even in the aggregate there will be.' Sixteen years later, and despite the growth of anti-German feelings, "Nomad" fondly recalled the dinner as a night he would 'never forget.'
Perhaps the menu card we have was his, a treasured memento of this small piece of football history.