Object of the Week: Maradona's 'Hand of God' shirt Calendar
16 Jun 2020
---
Two of the most dramatic goals in World Cup history were scored by the man wearing this shirt.
Argentina's Diego Maradona provided football with one of its most iconic, and infamous, moments by using his hand to score against England in Mexico City 34 years ago.
Four minutes later he would go from ridiculous to the sublime with one of the all-time great individual goals. A mazy run leaving white shirts in his wake to slot home past keeper Peter Shilton.
Collections Manager Wiebke Cullen takes a closer look at the shirt worn by the terrific number ten…
How did the National Football Museum acquire this shirt?
The museum has had the shirt on loan from England player Steve Hodge since 2003.  It's an object that has been seen by thousands of visitors for nearly two decades. We are delighted to display it in our permanent galleries in our England on the World Stage permanent exhibition where we tell stories about the World Cup, international football and England teams.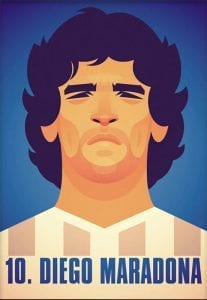 It has to be one of our most infamous items?
Yes, I think it probably is.
The jersey is instantly recognisable to lots of visitors as millions of people around the world watched the Mexico 1986 World Cup quarter-final between Argentina and England. Wearing this shirt, Diego Maradona arguably scored two of his most well-known goals.
Argentina scored first on 51 minutes. Although Maradona appeared to jump and handle the ball into the England net, the goal was allowed to stand.
The number 10 ran celebrating while England players raced after the referee to argue the goal should be disallowed. Maradona would go on to score a fabulous, and fair, goal just four minutes later.
The game ended 2-1 for Argentina and Maradona later said his first goal was scored 'a little with my head, and a little with the Hand of God'.
Maradona's second goal that day was so iconic that FIFA.com users voted it 'Goal of the Century'.
How did Steve Hodge acquire the shirt?
England were obviously devastated to go out of the World Cup, especially under such unfair circumstances. Hodge ended up swapping his shirt with Maradona after the match but didn't tell his teammates who were still reeling over the handball that wasn't penalised and sent them crashing out of the tournament.
What is the importance of this shirt in the context of England's World Cup history?
England won their only World Cup in 1966. England started the 1986 tournament with poor results in the group stage but went on to build a genuine challenge. Argentina stood in their way of the chance to reach a semi-final and possible final.
England's international story has often had a narrative of 'so near, yet so far' and Maradona's first goal is maybe symbolic of an ongoing bad luck story in major tournaments.
What reaction do we get from visitors to this shirt?
Objects that evoke emotions and memories are the best to tell stories. They can trigger a multitude of reactions, from joy to unhappiness or even despair. The Maradona shirt delivers on all of these.
Most people are excited to see such an iconic object on display; an original shirt worn by a famous player always attracts the attention of visitors. However, with the added story of the 'Hand of God' incident and England being knocked out of the 1986 World Cup in that game, the shirt still triggers disbelief and unhappy memories for many visitors.
What other notable England Cup items do we have on display?
We have a number of great objects for many of the Football Association's national teams.
These include Viv Anderson's Under-21 cap from 1978 and the 2002 World Cup ball from the game in which David Beckham scored the winning goal against Argentina.
We have Steve Johnson's England cap awarded for the 2005 World Amputee Football Football Federation World Championships in Brazil and Liz Deighan's England cap for her first appearance for England in 1974.
Of course we also tell the story of England's success at the 1966 World Cup with objects such as the actual ball and Geoff Hurst's shirt from the final as well as the Jules Rimet substitute trophy commissioned by the FA in 1966.
These iconic 1966 items hold a lot more happiness for England fans than the Maradona shirt!
Diego's shirt also features in our First 11 series on football and society. Check it out below, and watch the full line-up of videos on YouTube:
Did you know we sell unique prints and shirts signed by World Cup stars in our online shop?
This includes Gary Lineker signed prints to a Brazil shirt signed by Pele.