Paul Ince inducted into the National Football Museum Hall of Fame
1 September 2021
---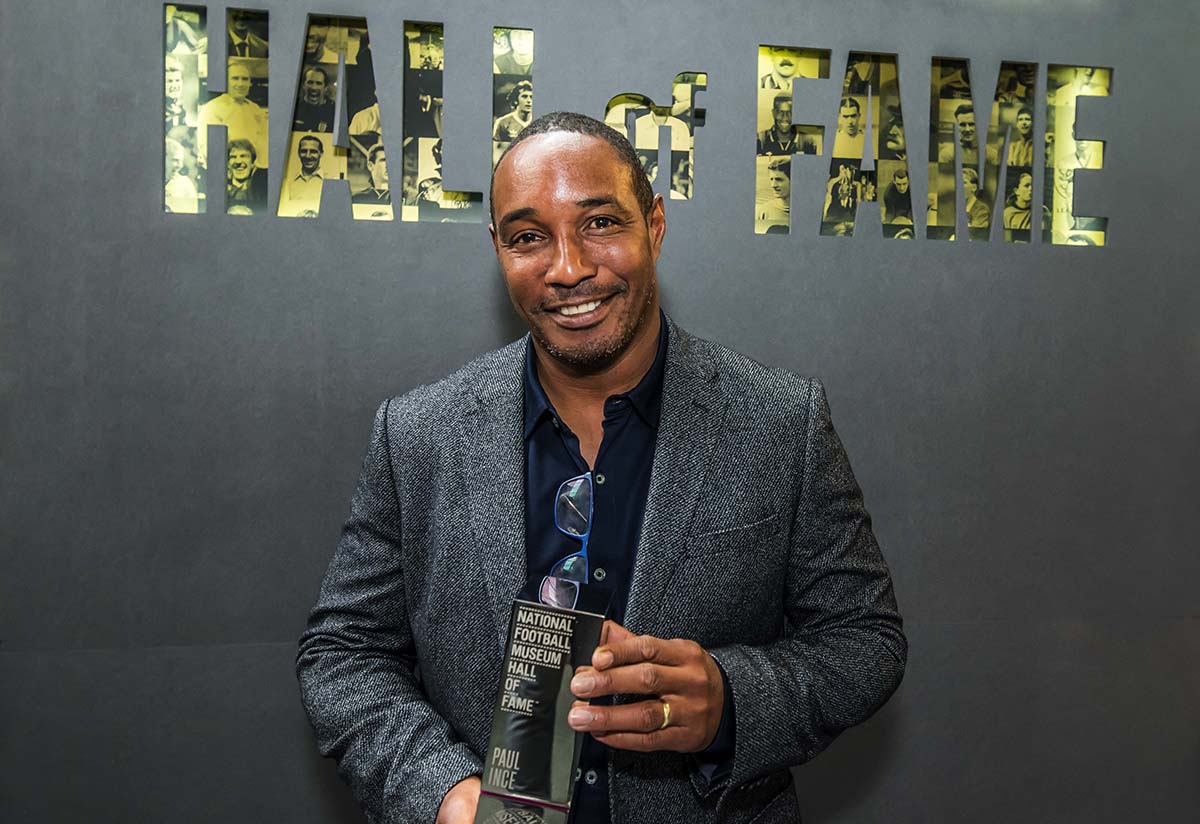 England's first black football captain Paul Ince has been inducted into the National Football Museum Hall of Fame.
The tenacious former Manchester United midfielder received his award from former team-mate, fellow Hall of Famer and England's first black footballer Viv Anderson at a ceremony held at the newly opened Hall of Fame exhibition at the museum in Manchester.
Ince is one of just three footballers to be inducted into the Hall of Fame since before the covid-19 pandemic and receives the honour on the eve of England's World Cup qualifier match versus Hungary on Thursday (2nd September) night.
Judges voted unanimously to induct Ince in recognition of his outstanding football career both as a player and manager, his position as a trailblazer in the BAME sporting community and his work to combat racial prejudice in sport.
Viv Anderson was on hand to formally induct Ince into the Hall of Fame, handing over the trophy in front of friends, representatives of his former clubs and family.
Tim Desmond, Chief Executive National Football Museum, said: "Paul Ince has fully earnt his place in the Hall of Fame, he is a born leader on and off the pitch. His leadership qualities were evident from his first appearances as a teenager for West Ham United 35 years ago.
"The first black captain of the full England national team, he represented his country at the highest level and it is important to the National Football Museum that his pioneering story is told. The image of Paul Ince covered in blood and bandaged after a bruising World Cup qualifier against Italy in Rome remains one of the most iconic football photographs.
"A driving midfield force in the rebirth of Manchester United in the early 1990s, Paul Ince won countless trophies at Old Trafford. It was no surprise that he went into management and became the first British-born black man to manage a Premier League club.
"Paul exemplifies the qualities needed to get into the Hall of Fame. As a player he was passionate, courageous, resilient and remains an influential figure in football."
From the age of 14 when he first signed with his home club of West Ham United as an academy player, Ince enjoyed a 21-year playing career in elite football making 53 appearances for England and a stint as captain during a tour of the United States in 1993.
After beginning his career with the Hammers, the club he grew up supporting, Ince soon cemented himself as a mainstay of one of the most successful Manchester United sides in the club's history, earning 206 caps between 1989 and 1995 and completing the domestic title set by winning two Premier League titles – including the inaugural season, two FA Cups and both the European Cup Winners Cup and the Football League Cup.
He went on to play for Inter Milan in the Serie A, making a UEFA Cup final, before returning home to play for Liverpool, Middlesbrough and Wolverhampton Wanderers. Towards the end of his career, Ince featured as player-manager for Swindon Town and Macclesfield Town before making the successful transition to manager where he coached Milton Keynes Dons, Blackburn Rovers, Notts County and Blackpool. Since retiring from football, Ince has made regular media appearances as a football pundit for BT Sport.
His induction into the Hall of Fame coincides with the launch of the Hall of Fame exhibition which showcases the stories of Hall of Famers and objects of significance throughout their careers. Several objects have never been on display before. The exhibition features female and male inductees equally as part of the museum's ongoing commitment to promoting diversity and inclusion.
The Hall of Fame, supported by the Professional Footballers' Association, celebrates the achievements of those who have made an outstanding contribution to the game, either on or off the pitch.