No Score Draws: 2018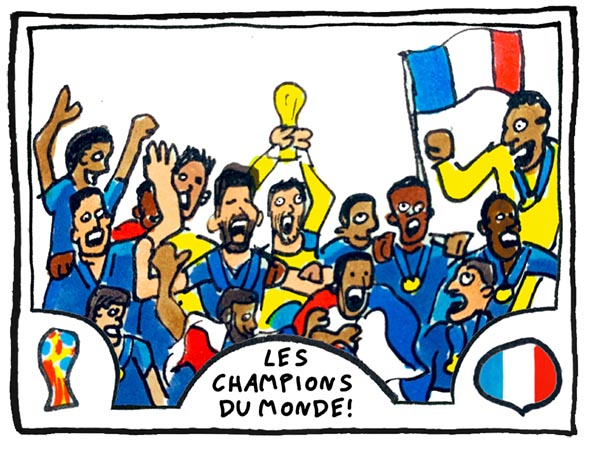 The winners: France
Twenty years after their first triumph, France were at it again – this time, far away from home.
The one constant was Didier Deschamps. The unassuming, workmanlike midfielder captained Les Bleus to victoire in 1998, then took the managerial reins 14 years later. In his first two tournaments in the dugout, France made it to the final four of the 2014 World Cup, then were beaten in the Euro 2016 final in extra-time.
That steady upward trajectory put the French on course for another tilt at the World Cup, though they flattered to deceive early on despite topping Group C. They turned on the style in the knockouts, coming out on top in a seven-goal thriller against Messi's Argentina. France comfortably saw off Uruguay in the quarters and did enough to beat Belgium in the final four, setting up an encounter with Croatia at the Luzhniki Stadium.
By the end of the first half, France had one shot on target but had registered two goals, courtesy of a Mario Mandzukic own goal. Griezmann, Pogba and Mbappé were all on target in a 4-2 win as Les Bleus lifted the trophy for the second time in their history.

Antoine Griezmann
Not to get all Graeme Souness about it, but if you're going to mess around with your hair and spend time rehearsing a little ringing telephone dance for the cameras, you'd better have the talent to back it up.
Fortunately for France, Antoine Griezmann was good enough to justify it. The best player at Euro 2016, The Atletico striker once again came good for his country, scoring four times and laying on plenty more, He pulled the strings in the final, assisting Mandzukic's own goal (if that qualifies as an assist), converting a penalty and providing the pass for a Paul Pogba strike.
For his efforts, Griezmann was voted man of the match, and would later be awarded the Bronze Ball. Just for that, we'll overlook his atrocious Fortnite celebration – imagine doing *that* in a World Cup final – but we won't let him off in Qatar.
Harry Kane
For years, we talked about Gary Lineker as the sole English winner of the coveted Golden Boot. Then Harry Kane came along, smashed in a hat-trick against Panama, and was already halfway towards the award. Two of those goals came from the penalty spot, while another was a fortunate deflection. They all count.
In truth, the Spurs legend had already opened his account in a more meaningful way, scoring a brace – including an injury-time winner against Tunisia. The metronomic penalty taker scored his third penalty, and sixth goal overall, from the spot against Colombia, and also converted his spot kick in the successful shootout.
Kane did not trouble the scoresheet in the next three games, his plundering of Group G proved enough to comfortably win the Golden Boot.
Gareth Southgate
No Score Draws have perfectly captured the moment here. The ecstasy, the relief, the outpouring of frustrated emotion, and the exorcism, all etched on his face (in fine tip pen).
Gareth Southgate perfectly navigated that fine line between doom-mongering pessimism and brazen overconfidence to quietly steer England to their first World Cup semi-final in 28 long, cruel years. But his era-defining moment came two rounds earlier.
After 120 minutes, nothing could separate England and Colombia except the dreaded penalty shootout. Jordan Henderson's miss could have triggered penalty PTSD for Southgate, only for Manuel Uribe to thump his own spot kick off the bar. England's other Jordan pulled off one of the most underrated penalty saves in our nation's history to deny Carlos Bacca.
Then fittingly, Eric Dier – centre-half, just like his boss – stepped up to the plate. There was no denying Dier, and England finally put their penalty hoodoo to bed.
It was a tournament of redemption and reinvention for Gareth, who laid his own shootout demons to rest, proved many of his doubters wrong (for a bit; England fans can never stay happy), and ensured that Marks and Spencer sold every single one of their navy waistcoats that summer.
Luka Modric
Over the years, Luka Modric has quietly become one of Real Madrid's greatest signings of the modern era, and has long been a leader for his country as well as his club.
Approaching 33 years of age, Modric's impact has grown rather than diminished in his twilight years, and nowhere was that more evident than in Russia. Handed the armband for the national side in 2017, the diminutive playmaker was named man of the match in two of Croatia's Group D games.
That influence extended into the knockouts,. The oldest outfield player in Zlatko Dalic's squad pulled the strings throughout, running more, dribbling more and completing more passes than any other player prior to Croatia's first ever final.
Though they were outplayed by France in said final, Modric won that year's Golden Ball, and later that year became the first player in a decade to disrupt Messi and Ronaldo's vice-like grip on the Ballon d'Or.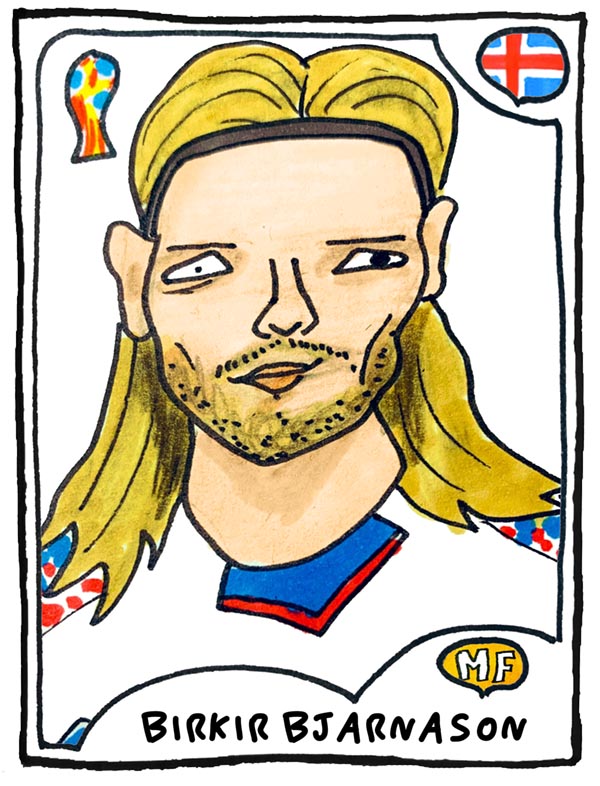 Birkir Bjarnason
The comparatively tiny island of Iceland stunned England and the watching world at Euro 2016, but by the time they travelled to Russia, there was no chance that Europe's most sparsely populated country (thanks, Wikipedia) would be underestimated a second time.
Nevertheless, the World Cup debutants held Argentina at bay in the opening game of Group D. After Alfred Finnbogason's early leveller, film director and part-time goalkeeper Hannes Þór Halldórsson kept out Lionel Messi with a fitting save for the cameras. A defeat to Nigeria in the following game left Iceland requiring a win against Croatia to stand a chance of qualifying.
Aston Villa midfielder Birkir Bjarnason embodied the warrior spirit of the Icelandic side. Within ten minutes, he had taken a whack to the nose from Marko Pjaca, but just stuffed a load of tissue up his nostrils and cracked on with it.
Backed by their fans' famous Viking clap, Iceland were level until the dying seconds, but were caught in possession and duly punished by Ivan Perisic. Iceland's dream journey ended after three games, but at least they went out on their shields.
Michy Batshuayi
We end our World Cup retrospective with an image that perhaps sums up the entire exhibition.
First, a little context. Roberto Martinez's Belgium side was considered the greatest of a generation, boasting talents such as De Bruyne, Hazard, Courtois and Lukaku. There was strength in depth, too: behind the big number nine was his de facto protégé, Michy Batshuayi.
As expected, the on-loan Dortmund striker played second fiddle to Lukaku throughout, but had the chance to make his mark against Tunisia off the bench, spurning a host of chances before getting a stoppage-time goal.
After two wins, qualification was assured, and Martinez shuffled his pack for the final game against England. Adnan Januzaj scored the game's only goal, but nobody remembers his fine curling strike: Batshuayi stole the show with his sensational follow-up.
Making his first start, an excitable Batshuayi caught the ball as it bounced out of the net, intending to thump it emphatically back from whence it came. He did eventually hit the target, but via the post and his own face.
We've all been there on five-a-side pitches or on a Sunday morning. An embarrassing slip over the ball. A swipe at fresh air. Kicking the ball with the wrong foot a millisecond before skewing it with the right one. The international response to such embarrassment is to suck it up and smile, or alternatively pretend as though it never happened.
Having literally taken it on the chin, Batshuayi wasn't prepared to do the same in a figurative sense. His reaction, holding his face as though he had suffered a serious injury to something other than his pride, only made matters worse. He managed just three more minutes in Russia, coming on in Belgium's vain search for an equalising goal in the semi against France, but there was no late redemption, no last-gasp leveller.
No, Michy Batshuayi's legacy will forever be firing a football into his own face. That'll do for us.