17 June 2021 - 5 September 2021

---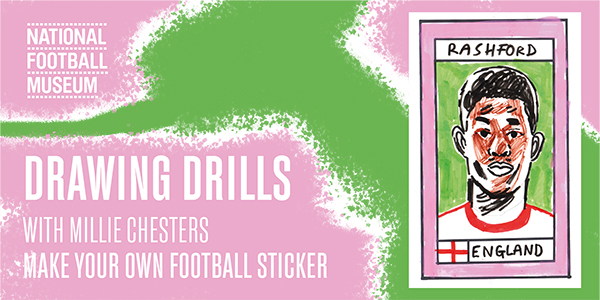 At the National Football Museum this summer, we are celebrating 25 years since the iconic Euro '96 tournament by encouraging visitors of all ages to design their own retro football stickers!
Whether you attempt the creative challenge on your own - or use our QR code to see how
illustrator-extraordinaire Millie Chesters goes about it - we can't wait to see your designs!
You can pick your favourite player from the past or present and turn them into a special piece of football memorabilia. Sketch out your superstars in domestic or international colours, and show us your work on Facebook, Twitter or Instagram.
You could also have a go yourself at home! Download our Drawing Drills template by clicking here.
Subscribe to the National Football Museum YouTube channel and see even more creative how-to videos, as well as our educational First 11 series.