Object of the Week: David Beckham's Argentina penalty football Calendar
2 Jun 2021
---
As an international star and media sensation, David Beckham is synonymous with English football. He sent this ball into the Argentina net in one of his most iconic moments. As England embark on the delayed Euro 2020 tournament, Alexandra Heaton finds out more about this object…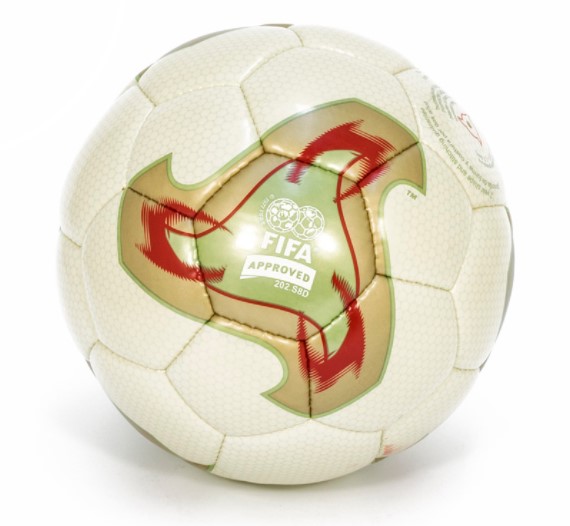 What is the object?
This is the match ball from England's 2002 World Cup match against Argentina played on 7 June 2002. David Beckham scored a penalty with this ball in the game which led to England winning one nil.
What was the relevance of the ball and match?
This match ball is especially relevant as four years earlier Beckham had been sent off in the 1998 World Cup encounter between the same two nations. The midfielder saw red for kicking Diego Simeone and England subsequently lost that match on penalties. In the aftermath some fans and media directed their anger at Beckham – blaming him for the loss.
Four years later at the 2002 World Cup in Japan and South Korea, Beckham was promoted to team captain. In the group game against Argentina in Sapporo he scored the penalty to beat the old foe with this ball.
In a sense, the goal was a redemption for the player after his sending off in France four years earlier. He had exorcised that bad memory and was the nation's hero again.
Tell us about David Beckham
He is famous for being a footballer, fashion icon, global brand, the husband of a Spice Girl and now current president and co-owner of Inter Miami CF and co-owner of Salford City.
Beckham was the first English football player to win league titles in four countries: England, Spain, the United States and France. His career spanned 20 years with some of the most successful clubs in the world: Manchester United, Real Madrid, AC Milan, LA Galaxy, Paris Saint-Germain and the England national team, which he captained for six years.
He helped United win six Premier League titles and one European Cup. After Real Madrid, Beckham moved to Los Angeles Galaxy, where he was immediately made captain. He spent five seasons with the Californian club.
In 2013, he signed a five month deal with Paris Saint-Germain. During this time, he donated his entire salary to a local children's charity and helped the team claim a Ligue 1 title.
What kind of player was he?
A hugely successful one! Over a 20 year career he won 19 major trophies for his clubs and appeared in 115 games for England scoring 17 goals. As a player he combined dead-ball brilliance and phenomenal passing vision with an outstanding work ethic and professionalism.
Can museum visitors see this match ball?
Yes, it is currently on display on our galleries. David Beckham was inducted into he museum's English Football Hall of Fame in 2008.