Objects of the Week: Sue Lopez England shirt and cap Calendar
26 Aug 2020
---
Sue Lopez's contribution to women's football has been immense; as a footballer, coach and manager over a career spanning five decades.
She also battled indifference and entrenched discrimination to push for better recognition of women's football.
Curator Belinda Scarlett takes a look at the objects linked to this remarkable player's story.
Tell us about Sue Lopez
Sue Lopez is one of England's most successful and respected footballers. She was a driving force behind the women's game throughout her career as a player, coach and administrator.
Born in 1945 she started playing football in the late 1960s winning numerous titles with her lifelong club Southampton and 22 caps for England.
Her work as an organiser and advocate for women's football has had a long-term impact on the game in England and in 2000 she was awarded an MBE for services to women's football.
Tell us about her playing career
Lopez had a hugely successful career for her club and as an international.
A central midfielder and fantastic goalscorer, she was a founder member of Southampton WFC in 1970, a side that dominated women's football in the 1970s and 80s.
Southampton won the inaugural Women's FA Cup in 1971, then known as the Mitre Challenge trophy, and went on to achieve eight more titles.
Sue took part international competitions in the late 60s and early 70s that introduced her to the possibility of playing semi-professionally abroad. In 1971 she made the pioneering move to Italy to play professionally for Roma in Serie A.
Shortly afterwards Sue returned to England to build her international career after the Women's Football Association organised the first official England women's national team.
She made her debut against Northern Ireland in 1973, later giving her debut cap to the National Football Museum.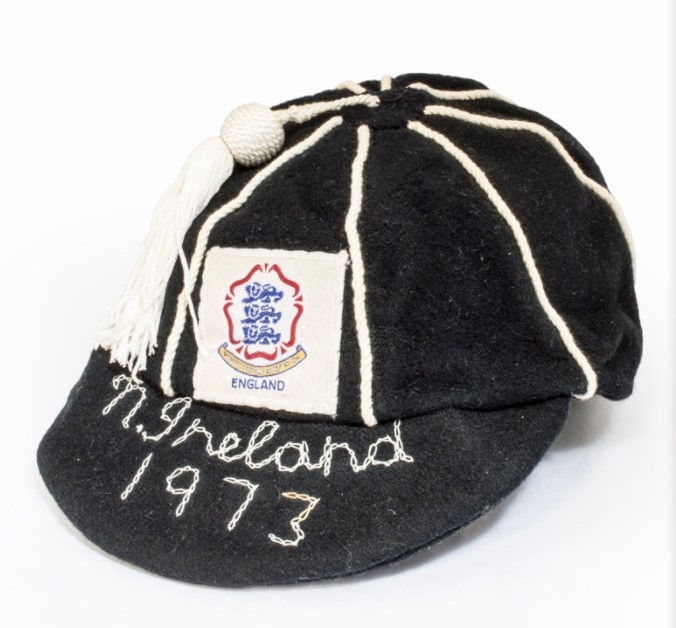 How significant is her story to the women's game?
Sue Lopez is one of the most well-known and successful players of her generation.
She became involved in football at an important time for the women's game.
In the late 1960s there was increased interest in the game among women and an appetite for better organisation to help the game progress following years of under-acknowledgement from the FA.
Sue and her generation of female players helped establish and run the Women's Football Association from 1969 to 1993, paving the way for today's generation of professional players.
She later went on to become the second woman to gain an FA Advance coaching licence and dedicated the rest of her career to coaching and administration, managing Wales and Southampton Saints.
Like many female players Sue battled indifference and entrenched discrimination to push for better recognition of women's football.
What items do we have relating to her career? 
Sue very kindly gave a collection of material about her career to the museum, these include an England shirt from the 1970s, her debut cap as mentioned above and some fascinating photographs from her time in Italy.
Are these items on show?
Yes, you can see Sue's England shirt on display in our Match Gallery alongside other significant objects from the women's game.
When was she inducted into NFM's Hall of Fame?
Sue Lopez was the third woman to be inducted into the National Football Museum Hall of Fame in 2004.
Sue Lopez turns 75 on 1 September 2020.
In April she was interviewed by the Daily Telegraph talking about her career, her love for the game and how heading footballs may have caused her dementia. She remains an icon of English football.
Sue features in our First 11 series as one of the eleven pioneers of the game. Check it out below, and watch the full line-up of videos on YouTube: