Aguero Plays at Pitch To Pixel
20 November 2015
---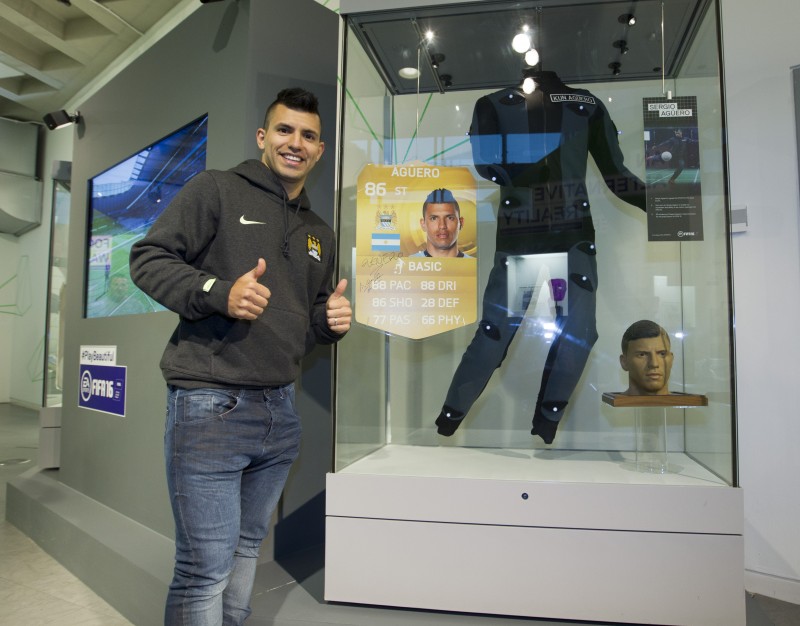 Manchester City forward Sergio Aguero has made a surprise visit to the National Football Museum's new exhibition, Pitch to Pixel: The World of Football Gaming.
The superstar striker's appearance was particularly a surprise for one young City fan, who had won a Manchester City Junior Cityzens competition in association with EA SPORTS, and was enjoying a private tour of the exhibition. Sergio and the lucky Junior Cityzen enjoyed a game of EA SPORTS' FIFA 16 on the big screen in the exhibition.
Pitch To Pixel launched last month, and is the first exhibition to explore the relationship between the two international obsessions; football and gaming, as the line between simulation and reality becomes increasingly blurred.
During his visit the Argentina international came face-to-face with an incredibly lifelike EA SPORTS FIFA 3D model of the player's own head that forms part of the exhibition. The Manchester City forward took time to pose with, and sign the model, while showing his surprise at the similarity.
The exhibition's curator John O'Shea gave Sergio a personal tour of Pitch to Pixel that included showing the player his own bespoke motion capture suit for FIFA 16 as well as giving him a game on Pele's Soccer, an Atari 2600 title released in 1980.
Open until June 2016, the exhibition also includes a new interactive artwork called 'Hit-it' by Leo Schatzl, which allows visitors to put themselves 'inside the game'. A 'header selfie' is triggered when a ball is headed, creating a short film of facial expressions of visitors taken at a crucial, unguarded moment.
There is also a photo booth where visitors will have the chance to put themselves on the cover of Football Manager, replacing the famously faceless figure that usually appears on the title's packaging.
A playable timeline of classic games in the exhibition including Pele's Soccer (Atari), Nintendo World Cup (NES), Sensible Soccer (Amiga), Go! Go! Beckham (Nintendo Gameboy) and Football Manager 16 (PC).
For an exclusive interview with Sergio from the museum, visit https://www.easports.com/uk/fifa/news/2015/sergio-interview