No Score Draws: 2010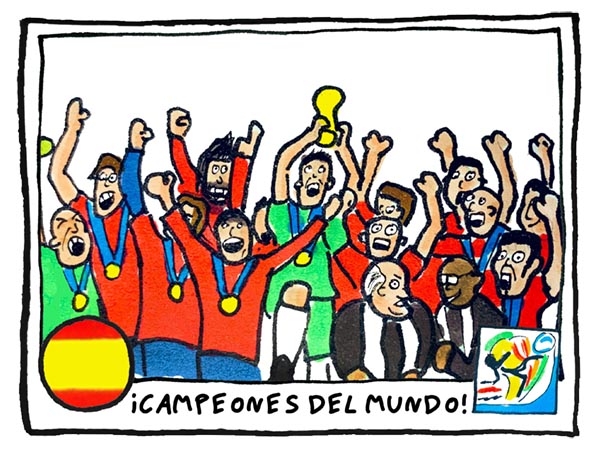 The winners: Spain
For Spain, thirteen was anything but unlucky. La Roja had not made it to a World Cup showpiece in twelve attempts: in fact, they had only reached the final four on one occasion, before Vincente del Bosque was even born.
By 2010, Spain were challenging the established order. Defending European champions for the first time since 1964, the national side went to South Africa off the back of a perfect qualification record. Despite the undoubted quality of del Bosque's squad – Casillas, Puyol, Xavi, Iniesta, Villa and Torres, to name but a few star members – Spain did not take the competition by storm as expected.
Despite an opening game defeat to Switzerland, they did what was needed in the group stages, then squeezed through the knockouts with three consecutive 1-0 wins, their dominance on the ball not quite converting into the equivalent goal margins.
In keeping with the established pattern, Spain would enjoy 63% of possession, but mustered just the one goal: Iniesta's thumping finish with four minutes of extra time remaining.
They may have been the lowest-scoring World Cup winners in history, but they were World Cup winners: a golden generation with gold around their necks.

Xabi Alonso & Nigel de Jong
Poor, beautiful Xabi Alonso. He didn't deserve this (the tackle and the drawing).
The 2010 final was an ill-tempered affair, as the Netherlands eschewed their Total Football heritage and resorted to kicking lumps out of Spain's tiki-taka twinkletoes. Referee Howard Webb was also on his toes, handing out a yellow card every eight minutes or so. With the game goalless within ninety minutes, it was a matter of time before someone was dismissed – and that someone was John Heitinga in the 109th minute.
However, Manchester City's Dutch destroyer should have been sent to the stands long before that. Meeting a high ball, Xabi Alonso deftly nodded the ball back inside towards a compatriot. De Jong arrived a day late and a Euro short, poleaxing the Spaniard with a violent kick to the body. He even had the temerity to berate Webb for handing him a caution, for a challenge almost bad enough to meet the criminal threshold.
For his part, Webb claimed afterwards that his line of sight was obscured by another player; had he seen the challenge clearly, he would have gone to his back pocket. That's little consolation for the victim, who no doubt has a dozen or so reminders of that day permanently embedded in his chest.
Andrés Iniesta
Amidst the violence of Soccer City, a Spanish carnation bloomed.
Andrés Iniesta was one of the Barca-bred masterminds behind Spain's success. The playmaker had incurred a worrying number of muscular injuries in the build-up to South Africa, and the premature passing of Daniel Jarque took its toll.
The 26-year-old rose above the physical and mental anguish to perform near the top of his game, earning the man of the match award for his showing against Chile. His passing range, movement and awareness was an integral part of the Spanish blueprint.
While Villa had scored the majority of Spain's goals up to that point, Iniesta took centre stage in the final, latching onto a Fabregas pass and lashing a half-volley beyond Maarten Stekelenburg.
Iniesta removed his shirt to reveal a touching tribute to his late friend: it was the only unjustified booking of the match, but the moment of catharsis was worth it.
Diego Forlan
In 2004, Uruguayan striker Diego Forlan was on his way out of Manchester United, thought to be another import that had not lived up to his potential in the Premier League. Within six years, he was winning the Golden Ball on the world's greatest stage.
The Atletico Madrid man was prolific in La Liga, and his combination of flair, guile and energy was put to good use by manager Oscar Tabarez. What really caught the eye was Forlan's penchant for a long-range strike. He rifled in a looping effort against South Africa, a swerving free kick from an acute angle against Ghana, and another outrageous hit that caught out Stekelenburg in the semi-final.
Had his late free kick against Germany been an inch or two lower, the 31-year-old would have won the Golden Boot, too. He missed out to Thomas Muller (as well as Villa and Sneijder, who also scored five times) by virtue of laying on fewer assists. If it was based on quality rather than quantity, Uruguay's hairband hero would have been clear.
Luis Suarez
From one Uruguayan hero to another…sort of.
Back in 2010, Luis Suarez hadn't bitten, stamped on or racially abused anyone. His long rap sheet arguably began in South Africa, when he committed a heinous football crime to save his country from elimination. Deep in extra time, Suarez legally blocked one goalbound effort from Ghana's Stephen Appiah, but channelled his inner Steven Taylor to parry Dominic Adiyiah's follow-up with his hands.
The striker was sent off, but Asamoah Gyan smashed the resulting spot kick onto the crossbar. The image of Suarez on the side of the pitch, joyously celebrating his unsportsmanlike behaviour, did not go down too well with the entire African continent.
Ghana would suffer double penalty heartbreak, losing the shootout, and a controversial monster was born.
Manuel Neuer (sort of)
South Africa was arguably England's most miserable World Cup in decades.
Fabio Capello's rigid, uninspired side drew their first two games against the USA and Algeria: if it wasn't for a solitary Jermain Defoe strike in the final game against Slovenia, the Three Lions would have been packing their bags early.
The knockouts can provide an opportunity to reset and go again. Unfortunately for England, the Group C runners-up were drawn against Germany. Unsurprisingly, the likes of David James, Glen Johnson and Matthew Upson found life rather difficult against Muller, Ozil and Klose.
Two down in the first half, England should have halved the deficit when Frank Lampard's shot bounced off the underside of the bar, crossing the line by approximately twelve yards*. The assistant somehow failed to see the ball cross the line – call it justice for '66 if you like – and the two-goal cushion remained.
Germany went on to batter England 4-1, but the match had far-reaching implications. The goal line technology debate was reignited, with the system fully operational by the next World Cup. Lampard's miss may well have hastened the wider introduction of technology into the sport, bringing us the fantastic, utterly flawless VAR tech we all know and love. Thanks, Super Frank.